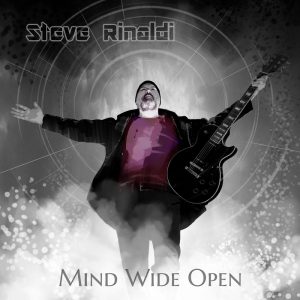 Back in the Spring of 2012, after being away from music creation and production for far too long, I built a new home studio out here in the quiet hills of Western New England – and got to work. 
There was an initial batch of guitar instrumental tracks that I had recorded over that first year or two — and "Mind Wide Open" was one of those tracks. Three others were "Deep Blue", "Dissolving", and "Horizon-7" (all of which are also set for wider release around the end of 2020).
These first 4 instrumental singles represent my full return to creating music again — and the first official releases under my own name, actually. Upcoming vocal music will be released under a different pseudonym – but I'll probably continue to release all future guitar-based instrumental singles and albums under my name.   
For the guitar-players (and music-lovers) out there — Just prior to originally recording three of those four tracks, one of my favorite players, Philly-based guitar-great Jef Lee Johnson sadly passed-away unexpectedly at only 54 years old in January 2013. If you're not familiar with Jef's playing, go check him out on Spotify sometime — 
Jef was definitely an influence for me — especially as I was so earnestly getting back to the guitar again – and working to stretch my playing beyond my old entrenched 80s and early 90s habits. Jef also played G&L guitars, too (the "L" in G&L is for Leo, as in Leo Fender) – one of my favorite brands. I had the great good fortune of being able to acquire two of his guitars – one, a black custom-built "Strat", with a beautiful bird's eye maple neck and fretboard — the other, his mid-90s blonde G&L Legacy. The Legacy was recorded and toured with by Jef quite a lot — including his tours with the late George Duke, Jef's own 2009 European Tour, and recordings and performances with Tony Hymas and Jeff Beck (Ursus Minor) – among many others.  
Anyway, without wandering off into a longer story — I played Jef's G&L Legacy on my tracks, "Deep Blue" and "Dissolving". On "Mind Wide Open", the solo was played on another of my G&L guitars – a 2008 G&L Comanche. The Comanche is a unique guitar with G&L's proprietary "Z-Coil" pickups – those pickups give it a very smooth "hi-fi" sound compared to the usual single-coil pickups. That guitar gave "Mind Wide Open" a very distinct tone that I've always been fond of.  So, contrary to the photo on the single artwork, I'm not playing that awesome ebony Gibson Les Paul (with P90 pickups) on these older tracks — it's the G&L Comanche. The Les Pauls are more recently added – and do get a lot of play time on many of my newer tracks, though.   
Now — if you've heard older (i.e., pre-2020) versions of Mind Wide Open, Dissolving, Deep Blue, or Horizon-7 — know that each has been almost completely re-recorded, except for most of my solo guitar parts, and some of my keyboard playing (which is all mostly from the original 2013 / 2014 recordings). 
Listening to the NEW recordings, you'll hear some wicked drums and bass on there — thanks to the great Rascal Flatts drummer and band leader, Jim Riley — and the bass guitar of the low-end master, John Forcucci. These guys make one of the most dynamic rhythm sections I've ever played with. Of course, in the COVID era, most recording in now done remotely — with Jim Riley working from his studio in Nashville, TN — and John Forcucci from his studio in Eastern MA. 
And – before I close this post, I should mention that the new "Mind Wide Open" as you hear on your favorite streaming service (Spotify, iTunes, Amazon Music, and dozens of other outlets worldwide) was mastered by the legendary Abbey Road Studios in London in June 2020. 
Listen to MIND WIDE OPEN and Follow Me on Spotify!